WHO WE ARE?
Ashtamudi Home Stay is located on Radha Theatre Road in Alleppey, which is one of the noted tourist destinations of the country. Owing to its proximity to the famed Alappuzha Beach and the sandy Thumpoly Beach, the property attracts many travellers from far and near. Well-maintained and spacious roo
ms available at the property are complete with modern amenities like television, air conditioner, telephone and high-speed Wi-Fi.
Set in the vibrant town of Alappuzha which is the centre for adventures into the Backwaters of Kerala.
Ashtamudi Home Stay is a welcoming and peaceful place with friendly english speaking staff. The rooms, although fitted with modern conviniences such as cable TV and air conditioning, are styled in the Keralan tradition, echoing the look and feel of the backwater houseboats.
Internet access and non-profit tourist information help to make your stay and onward travels as tranquil as the Backwaters themselves. We look forward to meeting you.
House Boat Ashtamudi
Videos
Our Service
Houseboats also known as "Kettuvalloms" is a huge country boat made up of tying huge jack wooden planks together and these planks are dipped in cashew nut resin to increase its power and durability. It comes in various shapes which include one to even ten bedrooms with attached and non-attached wash rooms, living rooms, dining rooms, kitchen and some even provides balcony, upper deck, glass wall etc. It's available in a/c and non a/c. The accommodation is available from scarce to dashing comfort and luxury. A cook is there ....view more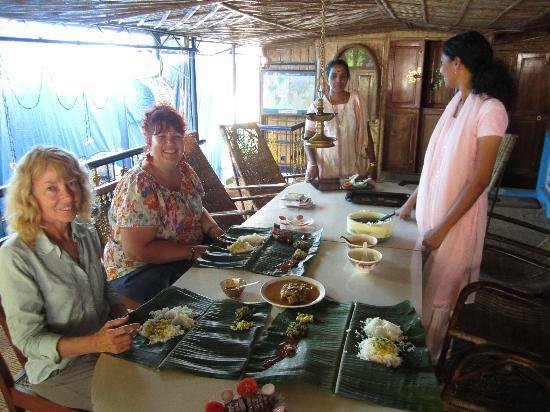 Ashtamudi Home Stay is located on Radha Theatre Road in Alleppey, which is one of the noted tourist destinations of the country. Owing to its proximity to the famed Alappuzha Beach and the sandy Thumpoly Beach, the property attracts many travellers from far and near. Well-maintained and spacious roo
ms available at the property are complete with modern amenities like television, air conditioner, telephone and high-speed Wi-Fi. The well-informed travel desk provides necessary assistance to guests who wish to explore tourist attracti....view more